No Comments
NASA experiments take a World View balloon ride to near-space
On

March 12, 2015

http://www.aztechbeat.com
At the crack of dawn a team of researchers, scientists, founders and engineers check on their passenger, a payload filled with research instruments, one last time before they send it into the stratosphere.
World View, a Tucson-based spaceflight company, recently paired up with NASA and completed a high-altitude balloon flight which carried research payloads as a part of the NASA Space Technology Mission Directorate's Flight Opportunities Program.
The NASA program is designed to help students, researchers and educators fly their technology in relevant environmental conditions, obtain real-time data and determine if the device can function in extreme atmospheric conditions.
"This was the first time that we've actually flown instruments that were selected by NASA to go to near-space. That's a big milestone for us," Jane Poynter, CEO World View, said. "These flights are to help ensure that if the instrument gets selected to go to the International Space Station, then it works."
The instruments selected by NASA included a device to measure the composition of cosmic rays from Gannon University and a Planetary Atmospheres Minor Species Sensor (PAMSS) designed to detect the amount and distribution of gases in the atmospheres of Earth and other planets from the Florida Space Institute at University of Central Florida.
"Florida's particular payload was a demonstration of the instrument itself-does it work under these kinds of conditions-and can the instrument take samples of tiny amounts of gases in the atmosphere. [Ultimately this instrument could] be sent by NASA to understand what is going on in other planets," Poynter explained.
The balloon took the instruments up and away to 105,000 feet and suspended at the edge of space for one hour and 46 minutes, Poynter said. The payload eventually made its way down via parafoil system.
While World View has previously sent payloads to near-space, this flight was the first of their new line of business catering to commercial customers, including NASA, explained Poynter.
"Through this flight, World View has demonstrated that they can provide commercial access to near-space to advance science and technology of interest to NASA," Dr. LK Kubendran, Program Executive for NASA Flight Opportunities said in a news release.
According to NASA, two of their most difficult hurdles in testing and qualifying advanced technology are the high costs and risks associated with the process and use of commercial parabolic aircraft or reusable suborbital launch vehicles (sRLV). Poynter explained that by using World View's balloon the near-space testing process is more cost-effective and can help move technologies to maturity and ultimately space travel.
In a report by NBC News, Taber MacCallum, the company's co-founder and chief technology officer told journalist Alan Boyle the flight was funded by NASA's Flight Opportunities Program and "…said the price was 'well south of half a million' dollars. Alan Stern, World View's chief scientist, said the flight was 'about 10 times cheaper than a sounding rocket,' which is currently the primary method for flying suborbital space experiments."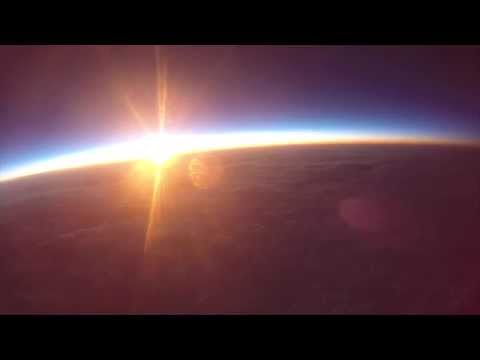 While World View will continue taking research material up to the stratosphere, their core mission is to send people to the edge of space.
"We care most about taking people into space," Poynter stated.
READ: Google executive breaks world skydiving record from space 
In case you are interested in riding up to the edge, the early bird ticket prices still hold at $75,000. While Poynter didn't share the number of tickets sold, she did say they've had reservations from people all around the world.
To get that space tourist capsule ready, Poynter said their major push for 2015 is to complete a full-scale test flight with a mock capsule with all the properties of the final product.
While more balloon flights are planned for this year, the NASA flight was a special milestone for Poynter. "It was exciting. It was a beautiful launch, the balloons are so graceful when you see them take off," she shared.
Read more coverage of World View from AZTB.
Contributions by World View & NBC News
Graphics courtesy of World View