No Comments
Gadgets for the Guru: Holiday Gadgets Guide
The holiday season is upon us, so gear up and check out the latest gadgets that these awesome tech companies have to offer! From home automation to music to everything in between, this year's Holiday Gadgets Guide will surely impress the tech enthusiast in your life.
HOME AUTOMATION
Leeo Smart Alert Nightlight
What happens if you're not at home and an alarm goes off? Leeo's Smart Alert Nightlight will send a notification to your mobile phone informing you of a crisis. The Smart Alert Nightlight is an easy-to-use device that monitors a home's existing smoke and CO alarms and alerts residents of issues via the free Leeo app. With no monthly fees or complicated installation required, homeowners and renters can safely secure their homes by simply plugging the device into a centralized power outlet.
Available for purchase for $99.00
KEVO's Kwikset
The Kwikset gives users the ability to send free and unlimited guest electronic keys (eKeys) to recipients, and with a scheduled eKey, set time and day constraints for regular house guests like babysitters, dog-walkers and contractors. Kevo owners can update their Kevo mobile app and lock firmware to enable these new types of eKeys. The Bluetooth-enabled deadbolt offers the only touch-to-open technology that lets users unlock the door with a simple touch while their authorized smartphone remains in their purse or pocket.
Available for purchase for $199.00
MyQ Garage
Ever have something valuable delivered to your home? Or your significant other forgot their keys? The MyQ Garage connected device lets you monitor and control the largest door into your home from anywhere in the world. This gadget is perfect for the DIY community and those interested in having the latest and greatest home automation gadgets. A simple, 5-step installation process that takes mere minutes and WiFi that reaches your garage gives the user a unique home automation experience. Get push notifications to your smartphone when your garage is in use or when it's been left open – so you'll never forget to close the garage door again!
Available for $129.99 at Home Depot
WEARABLES
Moto 360
The Moto 360  is an Android Wear-based smartwatch that easily comprises style and functionality right on your wrist. The form factor is based on the traditional circular watch design and boasts a circular capacitive touch display, as well as a steel casing and a removable wrist band. The watch is water-resistant and have wireless Qi charging. The Moto 360 also has an ambient light sensor and a heart rate sensor for active individuals and fitness enthusiasts.
Available for purchase for $249.00
LG G Watch R
The LG G Watch R  is an Android Wear-based smartwatch and is the second round-faced smartwatch after the Moto 360, but, unlike the Motorola version, it is the first to feature a full circular display.  It features a user-replaceable buckle-based strap. Specifications include a 1.2 GHz Quad-Core Qualcomm Snapdragon 400 processor, 4GB internal storage and 512MB RAM. It is encased in a brushed aluminium and stainless steel body and has a 320 x 320 resolution display. The smartwatch has a 410mAh battery, Bluetooth LE connectivity, barometer for measuring elevation, accelerometer, gyroscope and heart rate monitor (HRM). An awesome wearable that is sure to impress the masses.
VSN Mobil V.ALRT
The V.ALRT personal emergency alert device can be carried discreetly in a pocket or bag, worn on the wrist with the included band, or around the neck as a pendant. With V.ALRT, users that are injured, witness suspicious individuals/unusual behavior, or who find themselves in a dangerous situation can simply press a button to call for help. Using Bluetooth SMART (4.0 LE) technology, along with a mobile app provided by VSN Mobil (Android and iOS), the V.ALRT connects with the user's smartphone and sends personalized text messages, phone calls, and/or location information (with GPS on) to three pre-selected contacts indicating help is needed.
Available for purchase for $59.99. Get 20% off with coupon code "Holiday20"
Moov 
Moov isn't just another fitness tracker, it's a fitness coach. Moov uses powerful sensors and AI technology to give you real-time, personalized coaching while you're exercising, telling you how to improve and avoid injury. The LA Times says its, "a fitness coach at a tracker price." Whether it's running, swimming, boxing or weightlifting, Moov can help improve form and coach to fitness perfection. A great gift this holiday season for any member of the family. Take advantage of Moov's multiple purchase deal and buy Moov's for the entire family at a discounted price.
Available for purchase for $79.95
What's Good LLC.'s eBeanie
The eBeanie is one of What's Good LLC's first of many products within the growing wearable-technology market. It's an acrylic cap, with top-shelf Bluetooth-enabled technology, speakers and, unlike the competition, a revolutionary embedded microphone that allows people to make and take hands-free phone calls and listen to music all without fussing with tangled wires. Power it up, sync it with a Bluetooth-enabled music device and enjoy the simplicity of a true wireless device. The eBeanie is available in five colors (red, blue, black, pink and camouflage) with three more (orange, yellow and purple) on the way. Plus, every eBeanie comes with a money-back guarantee.
Available for purchase for $49.95 with free shipping.
Muse
InteraXon makes a wearable tech accessory for your brain called the Muse. It's a headband with EEG sensors that helps you learn how to de-stress, increase focus and improve cognitive function through guided exercises with the Calm app. Do more with your mind using real-time feedback of your brain activity.
Available for purchase for $299.00 
Olympia EX550 Waterproof Headlamp
The Olympia EX550 Waterproof Headlamp is a wearable that anyone in the family can enjoy, especially if they fancy nighttime adventures. It features a CREEXM-L2 LED that produces a powerful 550 lumens of brightness with beam range of 135 meters. Crafted from corrosion-proof aircraft-grade aluminum, the EX550 is waterproof to IPX-7 (up to 1 meter for 30 minutes) and impact resistant to 1 meter. The EX550 also includes a convenient lockout feature to preserve battery drain while not in use and pivoting head allowing users to seamlessly direct the light beam in the right direction.
Available for purchase for $69.99
Bia
The Bia Multi-Sport GPS watch is a water-resistant fitness wearable that features a slim lightweight ergonomic design, a single button, a touch-screen, and complete functionality for your next run, swim or bike ride. The simplest watch to help you perform at your best is a two-piece device that tracks your movement, provides SOS safety alerts and includes QuickConnect GPS when you need it.
Available for purchase for $279.00
Athlights
Stay safe while jogging at night with Athlights Safety Lights. They are tiny yet powerful LED lights that attach to an athlete's clothing with a super-strong magnet. Simply twist to activate the red and white flashing lights that boast 600-foot visibility. Weighing just 1/3 ounce and smaller than a dime, Athlights is the perfect, lightweight solution for nighttime bikers, walkers or runners.
Available for purchase in a 2-pack for $9.99
PORTABLE POWER 
TP-Link Power Bank 10,400 mAh
The TP-Link Power Bank 10,400 mAh is the perfect gift for the holidays for the connected mobile enthusiast. It's a sleek and compact power bank that fits discreetly into your pocket or purse. Simultaneously charge two mobile devices or use the built-in flashlight, which comes in handy for all outdoor adventures. The power bank is engineered with practicality and convenience in mind, including a smart LED charge indicator to show battery level can be charged with any standard 5V DC adapter.
Available for purchase for $24.99
RAVPower Xtreme 23,000 mAh
There are portable chargers and there's this bad boy. The RAVPower Xtreme 23,000mAh is the portable external battery charger that can charge an iPhone twelve times, a Galaxy S4 seven times, tablets several times over, and can give your laptop the battery boost it needs. With plenty of ports, you can charge several gadgets at once. This stylish and slim aluminum-body features a smart LCD screen that accurately displays power level, charging status and voltage selection.
Available for purchase for $99.99
Wusic 7,800 mAh
The Wusic 7800 mAh power bank charger is your simple solution for portable charging. Capable of supplying power to two devices simultaneously, it is an ideal charger for home use and makes the perfect travel companion. Small, sleek and super lightweight, it can easily be carried in bag or your pocket without feeling bulky, and comes in four different colors. Wherever life takes you, you can charge all your devices easily, conveniently and quickly.
Available for purchase for $24.99
SMARTPHONE & TABLET ACCESSORIES
Samsung Galaxy Note 4
The Samsung Galaxy Note 4 is the newest addition to the Note family. With its huge screen size, awesome features, and elegant aesthetic its easily in the top tier of smartphones on the market. Its biggest competitor is the iPhone 6 Plus. The dynamic Quad HD Super AMOLED display is absolutely beautiful and get more done with the most precise and useful S Pen ever. Equipped with Android, specifically KitKat 4.4.4, the Note 4 features a USB 2.0 charging port instead of USB 3.0 (as was in the Note 3 and S5), in favor of a new feature called Fast Charge, which Samsung claims can charge the phone from 0% to 50% in about 30 minutes.
Available at AT&T for $299.99 with a new 2-year contract
Moto X
The Moto X (2nd Generation) has a 5.2″ 1080p HD, edge-to-edge display and a curved metal frame design to fit comfortably in your hand. Moto X delivers awesome speed and powerful performance with the latest version of Android, which is free from unnecessary software, and it features a quad-core processor. With integrated voice control, Pure Voice, the Moto X turns into your own personal assistant. The Moto X can truly be yours by customizing your smartphone from colorful hues to deep wood grains.
Available at AT&T for $99.99 with a new 2-year contract
Samsung Galaxy Alpha
The 4.7 inch, 720p screen is bright and very colorful with excellent viewing angles. The AMOLED screen makes the colors pop and can also help save battery life. The Galaxy Alpha is essentially a smaller, slightly less featured version of the Galaxy S5 with a beautiful, streamlined design. The tradeoff for that upgraded design is a smaller, lower resolution screen, no micro-SD card slot or waterproofing. You do get the same fingerprint sensor found on the S5, along with Android 4.4.4 with Samsung's Touchwiz skin and the promise of an upgrade to Android 5.0 in the future.
Available on AT&T for $199.99 with a new 2-year contract
FLIR ONE
The FLIR ONE translates thermal energy into dynamic color images. The FLIR ONE is an infrared iPhone 5/5S accessory that lets a user "see the heat." Wander throughout your house or even the wilderness and check out which objects put out the most heat.
Available for purchase for $249.00
Strike Alpha Car Cradle
The Australian company Strike shared with us their all-new car cradle that is perfect for the individual who is a constant talker. The cradle holds, charges, and protects your phone while you're one the road. With easy installation the Strike Alpha Cradle is an awesome smartphone and car accessory that keeps the drive safe and hands-free. The cradle comes with 3-year unlimited KM warranty,
Available for purchase starting at $149.00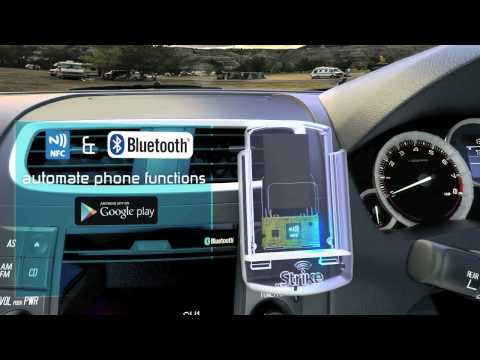 PortaPocket
Go from the gym, to the office to a night on the town without missing a beat. The XL PortaPocket pocket fits those huge smartphones like the Galaxy Note and the iPhone 6 Plus and you can wear it almost anywhere on your body. The PortaPocket isn't just for your smartphone though; it can morph to suit your life…. it's excellent to carry GPS units, music players, medical devices, IDs, cash money, cards, more.
Available for purchase for $12.95
Punchcase
Punchcase is a line of tech accessories that make for great stocking stuffers and can hold the new iPhone 6 and Samsung Galaxy smartphones with ease. The Punchcase is great for travel and it includes extra compartments to hold all your goods. The fashionable Punchcase collection boasts unique and elegant designs that are perfect for the techie fashionista in your life.
Available for purchase $59.00-$99.00
Armpocket
Armpocket's armband is the world's most comfortable and versatile "hands-free" carrying system for cell phones and other small items while running, working out, or just being on the move. Armpocket's armband features vented straps, memory foam padding, it has moisture-resistant and eco-friendly fabrics, multiple storage compartments, and dual ear-bud access. The armband by Armpocket comes in small, medium, and large sizes to accommodate any sized arm.
Available for purchase for $24.95
PortaFon
The PortaFon waterproof smartphone bag that can protect any kind of cell phone (with a screen size up to 5.3″) from water, snow, sand, grease and dust. It was originally designed to be used in the pool or sea (up to 100 ft underwater), but customer feedback saw that winter sports were another scenario in which the PortaFon worked perfectly. It's made out of durable PVC and the locking mechanism is very easy to operate, and miraculously it seals the phone from all-weather while you can still use all the functionality of your phone (including texting, answering the phone, taking good quality pictures and videos).
Available for purchase for $12.99
Pong Case
Pong creates cases for today's most popular smartphones. But these aren't your average cases. Offering minimalistic and lightweight designs, Pong cases do more than protect your favorite mobile gadget from daily wear and tear; they also protect you from potentially harmful wireless energy that can be absorbed into the head or body while using or carrying your phone in your pants pocket. By redirecting the signal away from the head and body, the Pong Sleek Case for the iPhone 6 reduces exposure to potentially harmful wireless energy 89% below the industry standard limit (the Specific Absorption Rate). It's true – just ask third party FCC-certified labs have validated that Pong cases significantly decrease the amount of radiation that can be absorbed into your head and body.
Available for purchase for $59.99
Logitech Keys-To-Go Keyboard 
Another awesome gadget coming from Logitech as they launch a new keyboard for iPads. The Keys-to-Go Keyboard is a fit-anywhere and go-everywhere Bluetooth keyboard that is discreet and can fit easily into a purse, backpack, or in between the pages of your favorite magazine. The fabric keyboard is liquid repellent, providing protection from accidental spills. Well-placed keys and iOS shortcuts make this keyboard the perfect gift for the iPad owner in your family.
Available for purchase for $69.99
Tablift
The Tablift is a brand new kind of tablet stand that offers significant advantages over other stands, like its ability to hold your iPad or tablet hands-free, even when lying completely flat. This is a big deal, because the #1 place for tablet use is the bed. Comfortably use your iPad or tablet anywhere with this inventive tablet stand that suspends your iPad over you.
Available for purchase for $59.95
FUNKY GADGETS
YoBrush
The YoBrush brings consumers & "beauty-istas" a new way to reduce clutter in a purse and simplify life with a dual-purpose product. Designed for harmless tough detangling, windy days, after sports activities, to use at the gym, or anywhere on-the-go, YoBrush keeps you looking good while protecting your iPhone. Colors include black, pink, baby blue, green and purple.
Available for purchase for $14.99
Polar Pen
When it's not a stylus, it's a ballpoint pen. And when it's not either, it can be anything you want! It can be a white board magnet, perpetual motor, compass, or magnetism trick since it's made entirely of magnets. The Polar Pen comes with 13 neodymium magnets that make the pen a fun activity for the techie in you. It also comes equipped with black ink that is easily refillable. Take notes or write a letter to Santa Claus with this stylish writing utensil.
Available for purchase for $39.95
VERVE 2
VERVE 2, a groundbreaking, easy-to-use interactive tech toy that allows kids of all ages to create fun projects and experiences by allowing them to control their computer and the Internet with everyday objects. Take any object in your home and put a sensor on it – it instantly turns it into a musical instrument. Or, how about controlling your favorite video game with a tennis racket? The VERVE 2 can do that too! Don't get intimidated by all of the cords that come with the VERVE2; they're there to make the experience fun! There are endless possibilities for this futuristic and interactive gadget that will surely please any member of the family this holiday season.
Available for purchase for $119.00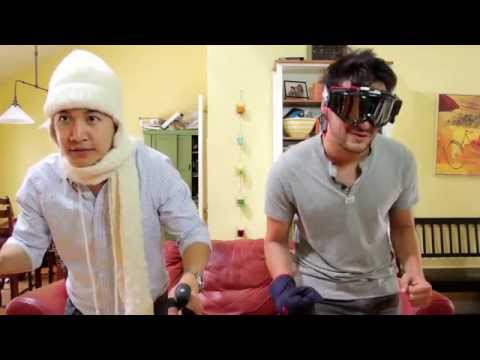 QLIPTER
The QLIPTER is best described as a reinvented clip – it is a clip but also has a rotating, folding hook. The QLIPTER can quickly hook over virtually any surface or bar and hold up to 50lbs. The QLIPTER can bundle luggage together, hang bags off of tables, chairs and doors, and attach a bag to a stroller or shopping cart bar. The QLIPTER has endless uses for travelers and active, busy people in general.
Available for purchase for $19.95
FixnZip
The FixnZip is a new way to solve that annoying problem with effortless zipper repair; sans needles, threads and tools. Easy to use and eco-friendly, FixnZip is reusable and can be taken off one item and used for another. It has a patented spring plate design consisting of two slider plates, a thumbscrew and spring, all manufactured within the USA. The slider parts are made of nickel-plated zinc die cast and the spring and thumbscrew of stainless steel. FixnZip can easily repair apparel (like backpacks, jackets or purses), outdoor items (like tents, and sleeping bags), and lifestyle items (like ski gear and suitcases).
Available for purchase for $9.99
YouBeam
The YouBeam is a new television streaming device that connects to your TV via the HDMI port. Use the YouBeam browser with your personal WiFi to send free video content to your high-definition screen. YouBeam also helps you search for and locate free movies and TV shows on the web and strips all viruses and malware from them.
Available for purchase for $7.99/month
Kurgo's Tru-Fit Smart Harness with Camera Mount
Dog owners can catch all of the action of their next adventure from their dog's back or chest. Whatever the activity, simply attach an action camera (not included) to the mounting plate and go. Kurgo's five-point adjustment system creates a perfect fit and great stability for the camera, reducing the jitters. Available in sizes S-XL, the harness boasts a padded chest for comfort and doubles as a walking harness.
Available for purchase for $35.00
Tagg GPS Pet Tracker (1st generation)
Dog owners and lovers everywhere need this gadget! Track your pet using an award-winning GPS pet tracker that sends text, push notifications and email alerts when your pet gets out. Quickly locate your pooch and bring them home safe. Tagg also monitors pet exercise levels and helps you to keep them happy and healthy. The compatible mobile app is free on iOS and Android. The Tagg is so easy to use too; it attaches directly to your pet's current collar.
Available for purchase for $99.95
MUSIC GADGETS
SwageU Bluetooth headphones by Rokit Boost
No wires? No problem! Headphone makers are slowly transitioning to the "Wireless" aesthetic because, let's face it, wireless is the best. The all new SwageU headphones come with EQ for better sound control, titanium alloy memory flex neck strap, upgraded speakers and supports hands-free dialing e.g. Siri for iPhone. These high quality headphones are the perfect gadget gift for the music lover in your family.
Available for purchase for $64.99
LilGadgets' Untangled Pro Children's Bluetooth headphones
LilGadgets is bringing its flagship product, the Untangled Pro Children's Bluetooth Headphone, to the masses. These Bluetooth wireless headphones, specifically sized for children aged 4 and up, have been designed to make life as a parent just a little bit simpler. There are six colors (white, black, blue, pink, purple and green).
Available for purchase for $49.95
FRENDS Taylor Rose Gold
These stylish headphones from FRENDS are the perfect purchase for the fashionista in you. The Taylor Rose Gold headphones come with a luxurious white leather headband and rose gold plates over the ears. The Taylor's come in a variety of colors such as oil slick, gold, silver, and rose gold.
Available for purchase for $199.00
Beats by Dr. Dre Solo HD Headphones
The Beats Solo HD headphones are bendable/foldable, lightweight and compact, and can easily fit into the padded pouch that comes in the box. Also in the box is an inline remote & microphone cable. The Beats Solo HD require the cable to listen to the newest tracks, and are not Bluetooth capable. The Beats Solo HD come in a variety of colors such as matte black, matte white, matte blue, and matte magenta-among others.
Available at RadioShack right now for $169.99
Pioneer SE-MX7-L headphones
These awesome headphones have something that no other headphones on the market have; advanced bass level control. On the outside of one of the earcups, there is a dial that controls the level of bass during a song. The Pioneer headphones are stylish and comfy and come in four different colors; matte white, matte black, matte blue, and matte orange. These high quality headphones deliver great sound and units for powerful low frequency and clear mid-high reproduction. The Pioneer headphones are not wireless and require the 3.5mm auxiliary cable.
Available on Pioneer's website for $199.99
SleepPhones and RunPhones
These headphones are the most comfortable listening gadgets you'll ever wear. Thin padded speakers are lined on the inside of both headphones, wrapped around the same Polartec fleece. The fabric is perfect for dozing off into a deep slumber or wiping away drops of sweat while listening to your preferred music. To keep clean, the speakers are removable, which enables the headband to be washed. Go for a seamless run or a cozy sleep with these comfy headphones.
Available at SleepPhones.com or RunPhones.com and they range from $39.95-$99.95
Ultimate Ears Boom (UE Boom)
The UE Boom portable bluetooth speaker is great for every occasion. With a water and stain resistant acoustic skin,  the UE Boom is perfect for the beach and pool party. Its cylindrical shape allows for a 360-degree sound output. A subsidiary of Logitech, the UE Boom is able to provide high quality music with a sleek beautiful design. You can enjoy 15 hours of playback on one charge and users can pair two speakers together using the UE Boom app for iOS and Android devices for stereo output.
Available in 6 colors for $199.99
Beats by Dr. Dre Pill Wireless Speaker
The pill speaker is a small but powerful compact system that plays music via Bluetooth or an aux cable. Users are able to take calls directly through the speaker. Song clarity is not as good as the UE Boom, but provides a very pleasant hearing experience and the pill gets exceptionally loud without too much distortion. The Pill will last for hours with its rechargeable lithium ion battery with up to 7.0 hours (average at 80dB). Battery life may vary based on use, settings, and environmental conditions.
Available for purchase for $179.99
ARCHT One
ARCHT One's distinctive design and multidirectional Sound Array technology dispels the notion that optimum sound can only be enjoyed from a specific location in a room – place the speaker anywhere and enjoy sound everywhere. Choose from connections such as WiFi, AirPlay, Bluetooth, and direct USB or AUX, which allow anyone to stream music to ARCHT One via their laptops, tablets or mobile devices. AirPlay and WiFi connections, in particular, allow you to stream and enjoy your music in high-quality formats – turn the music up and enjoy the true acoustics of each song. The ARCHT One is currently on Kickstarter and has raised more than double their goal.
Contribute to ARCHT One's Kickstarter campaign. Estimated delivery is January 2015