One Comment
GoCam! app let's you take touchless Selfies and video
On

July 24, 2014

http://www.aztechbeat.com
Wii, Connect, even a toilet can be activated with a simple hand gesture-but how about taking selfies? Crunchfish, a Swedish company that specializes in touchless interaction, released their latest creation, GoCam!, an app that can help you take the ultimate selfie with simply a wave of the hand. Think Wii technology on your smart mobile device.
The cool things about this app is that you can set the mobile device up to three meters away and capture photo or video, and you don't have to install any hardware because the app only relies on the video stream from your camera.
How it works
A grey colored hand icon will float on the screen prompting you to place your whole hand within the symbol, once your hand is detected, the icon turns green and prompts you to close your fist to activate the self-timer, giving you a 1-5 second window before it takes your picture. If you open your fist less than five seconds then the countdown will start immediately.
To take another photo, simply swipe your hand upward. The app offers photo editing with stickers, cropping, frames, enhancements and filters, even one that is named Arizona.
This slideshow requires JavaScript.
You can also use the back camera to record videos and use the same simple hand prompts as the photo feature to stop and start the video. Here is our attempt at the video component.
Crunchfish, founded in 2010, was awarded the Red Herring 100 European Winner in 2013 and has been recognized their cutting edge touchless interfaces. Their technology is focused on gesture recognition for interaction with mobile devices.
Another product which is completely cool is the social sharing where you can send a document to other devices with simply a swipe of your hand. Yes I want this…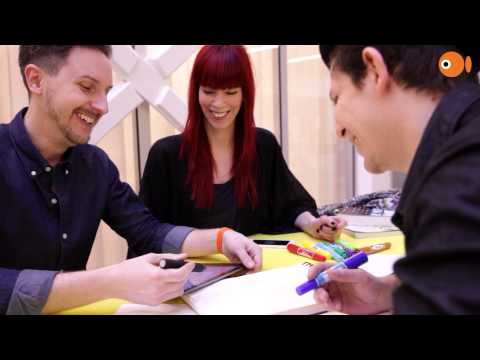 To date, Crunchfish has raised $5.5M in funding and seems to be flying under the radar, but with this app, the selfie addicts of America might catch on to this fish.
Read: The Art of Selfie