No Comments
Try not to scream-GRAVE brings creepy updates to its Oculus Rift compatible game
Earlier this year, AZ Tech Beat got a peak into the game GRAVE by Broken Window Studios, Inc., a first-person, survival horror exploration experience using the virtual reality headset Oculus Rift.
This weekend at Phoenix Comicon, and fresh off a mega successful Kickstarter campaign, the GRAVE team was able to show off its game to the long lines of people eager to try it out.
Since we last spoke, GRAVE has moved into full-time production, and they've been hard at work making freaky improvements that are sure to scare the pants off you.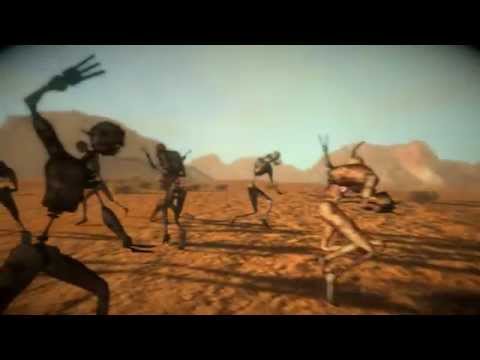 At Comicon, I was able to try out the game with the Oculus Rift headset, complete with headphones to stream the game's ominous music straight into my ears. My surroundings felt very real. Adjusting to the virtual reality experience was quick, although I do easily get motion sickness, so I did get a little nauseous. I was nervous the whole time, but soon as the sun set, one of the creatures popped out and forced a scream out of me. I wasn't the only one, though: the kid who played right before me screamed, and the grown man who played right after me shrieked too.
I think it's safe to say: this game is scary.
Developer and University of Advancing Technology alumnus Tristan Parrish Moore gave our team a rundown of some of the features they're still experimenting with and what players can expect from the newest version of GRAVE.
Advanced creature interactions. Each creature reacts differently to light, but now every creature will react differently to one another. Certain creatures might be immune to something that would harm another creature so the player will have to figure out how to balance that dynamic between multiple enemies at once.
Unpredictable surroundings. "Predictability is fear's enemy," said Moore. The team is focused on creating an even more ever-changing day and night environment, keeping the fear alive and well. "That's really been one of our main elements that is driving the game forward, basically splitting the gaming experience so that every time they start playing there's a possibility of something they weren't prepared for or something they didn't expect."
DIY resources: Players can engage in non-combative activities during the day. These include making versions of flares, flash bombs, torches and batteries, and the team is experimenting with more options. "We're just trying to make sure that those experiences add to the game without making you feel overly powered or Rambo-esque," said Moore.
More opportunities for taking risks. Because the environment switches between each day and night, players only have so much time to explore "safe" areas. For example, during the day, there are location-specific objectives to complete, but those locations might be far out in the distance so the player will have to decide if making a trip is worth risking being caught in the dark. "We want to make sure that the player is constantly presented with the idea of risk versus reward."
Updated Oculus Rift integration: A new Oculus Rift dev kit is now available with full HD resolution, and the team is working to get their hands on it. The new Oculus Rift also allows for position tracking so if the player moves their head forward, backward, left or right, the view actually changes. For example, a player can now lean over and look at something.
More platforms to play: Using the Oculus Rift definitely adds a scarier element to the game, but Moore assures that it's not necessary to fully enjoy it. The game is compatible with PC, Mac and Linux, and soon to be released on XBOX One and Steam Greenlight. The team is in talks to release on a Sony platform, hopefully the PlayStation 4, Moore shared .
GRAVE is set for release in early 2015, but Moore teased that it could be sooner.
To keep up with GRAVE click here.
 Additional photos by Becky Brisley