No Comments
Smartpens help transfer your paper napkin ideas into the digital world
On

January 10, 2014

http://www.aztechbeat.com
Even though I am drenched in mobile devices and gadgets, and rarely separated from my smartphone, I still continue to take notes and jot down ideas with pen and paper. The arduous part comes during from transferring of all my ideas, notes and tasks to my device. Fortunately, the solution is the smartpen and the ability to transfer all of ones' ideas seamlessly to a mobile device in real-time.
At Showstoppers at CES 2014 there was the battle of the smartpens between Livescribe 3 and Equil Jot that vied for the attention of the techie scribes and convert them away from their average ballpoint.
This smartpen, released in October of 2013, allows the user to transfer handwritten notes via Bluetooth seamlessly to an iPhone, iPad, iPad mini and fifth-generation iPod Touch; an Android application is expected by the end of the year.
The pen pairs with the Livescribe+ app which has the ability to add photos and text memos to the notes and convert handwriting to text to create tasks, reminders, contacts and calendar events. Users also have the ability to share their information as PDF files over Mail, Messages, Evernote, Dropbox and other apps.
Another cool feature of this pen is the ability to use the built-in microphone on a tablet or smartphone to create interactive "pencasts" that synchronize recorded audio with written notes. The pen is expected to last for 14 hours with a full charge and includes a capacitive stylus cap to control the app. The only hindrance of this pen was the need to use their Starter Notebook paper for the pen to transfer information.
The Livescribe 3 smartpen is available for $149.95, includes a 50-sheet Starter Notebook, as well as a micro USB charging cable and a black tungsten carbide medium-tip ink cartridge. Priced at $199.95, the Livescribe 3 smartpen Pro Edition includes a leather smartpen portfolio with a 100-sheet hardbound journal, a one-year subscription to Evernote Premium, the charging cable and an additional ink cartridge.
This smartpen also has the ability to transfer your chicken scratches to an iOS device. The product features that I absolutely loved was the freedom to write on whatever notebook, napkin or piece of paper I wanted and the app capabilities seemed to cater to a creative mindset. The hardware is an adaptable magnetic receiver unit that uses a combination of ultrasonic and infrared light that syncs your work seamlessly to an iPod, iPhone or computer.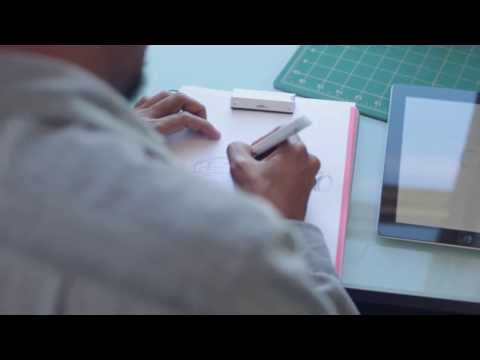 To calibrate your unit to fit to the size of paper, it takes two taps on the paper (top left and then bottom right) then you are good to go.
The pen is used with two complimentary apps, the Equil Note (organization tool) and the Equil Sketch (creative). With the mobile apps the user can take notes and sketch, but also to import images from their camera roll, edit, illustrate, share to really create a thorough document. All of the created work is then saved in the Cloud service for easy access and one can choose to sync with Dropbox or Evernote.  This smartpen goes for $149 and comes with a stylish case with a soft magnetic cover, similar to the Apple iPad cover, for secure closure.
After working with these pens, I'm definitely converted and certainly prepared to scribble my next best idea on a cocktail napkin.
 Photos provided by Equil and Livescribe